Welcome to our new site!
Your one-stop source for all of your promotional product's needs, we work with more than 4,000 suppliers, offering customers more than half a million different unique items that can be completely customized to show off your unique brand. From pens and tote tags to phone cases and office items, we offer countless ways to celebrate your company or organization and help get your name out there.
Promotional products & branded merchandise are the leading way to get your name, your brand and your message out into the world, helping you garner more customers and more awareness. As one of the most effective marketing options, we can help you get the perfect products quickly, efficiently and affordably.
Check out our expansive inventory online now, or contact us today and let us get started on finding the perfect product solution for you!
Featured Item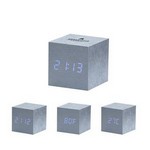 MoMA Alume Cube Clock
Designed by Natalie Sun, the Alume Cube Clock has a textured surface. Snap your fingers or tap the cube and the green LED display reveals the time, date and temperature and after a few seconds the dis...

Signature Showrooms